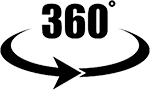 Wall-mounted outdoor cabinet AirEff T14W
Free space for equipment: 14U.
The unique design of the cabinet, with IP66 protection degree.
The high-efficiency ebm-papst fans ensure the comfort of the equipment operation.
The capacity of fans is from 100 to 200 m³/h.
Easy to maintain.
Package contents: The set includes a universal reliable mount for mounting the cabinet on the wall or on a supporting pillar.
Benefits
Corrosion-resistant housings
Possibility of a ventilation system installing
Energy efficiency due to improved thermal insulation
Resistance to hacking
The cabinet is prepared for connection and start-up in the shortest possible time on the site
Remote cabinet climate monitoring and control
Other devices monitoring and managing
There is a set of mounting for the cabinet installation on a post or wall
Enquiry Now
Specifications
Overall dimensions
Height: 850 mm
Width: 600 mm
Depth: 600 mm
Technical characteristics of a case
Body material: Sheet steel /Zinc-plated /Aluminium
Coating: RAL 7035
Type of instalation: weight
Number of climatic zones: 1
Ventilation systems AC 220V
Fan AC 220V
Fan supply voltage AC: 220V ~50/60Hz
Performance (flow): 100 … 200
Ventilation systems DC 48V 
Fan DC 48V
Fan supply voltage DC: 48V
Performance (flow): 100 … 200
Description
Description
AirEff T14W is a 14U mounted climate cabinet with a depth of 600 mm, designed for the operation and protection of active and passive network equipment. Access and maintenance of the equipment is organized from the door side.  The technology of reusable bending of metal in the production of the product – provides a double margin of the product safety and enhanced protection against damage to the equipment. Packaging: The cabinets are delivered assembled, on a pallet, packed in cardboard.
Documents