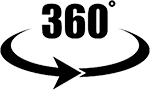 Outdoor Enclosure AirEff T24
Free space for equipment: 24U.
The high-efficiency ebm-papst fans ensure the comfort of the equipment operation.
The capacity of fans is from 300 to 1,200 m³/h
Benefits
Operation of the equipment throughout the year in the temperature range from -40 to +50
Energy efficiency due to improved thermal insulation
Resistancetohacking
Protection from wind, rain, sand and snow storms
The cabinet is prepared for connection and start-up in the shortest possible time on the site
Remote cabinet climate monitoring and control
Otherdevicesmonitoringandmanaging
Enquiry Now
Specifications
Overall dimensions
Height: 1340 mm
Width: 600 / 800 mm
Depth: 600 / 800 / 1000 mm
Technical characteristics of a case 
Body material: Sheet steel / Zinc-plated / Aluminium
Coating: RAL 7035
Type of instalation: floor
Number of climatic zones: 1
Ventilation systems AC 220V 
Fan AC 220V
Fan supply voltage AC: 220-240V ~50/60Hz
Performance (flow): 300 … 1200
Ventilation systems DC 48V
Fan DC 48V
Fan supply voltage DC: 48V
Performance (flow): 300 … 1200
Description
AirEff T24 – floor-mounted climate cabinet 24U, standard options for 600 mm, 800 mm and 1,000 mm in depth, 600 mm and 800 mm in width. The cabinet is designed for the operation and protection of active and passive network equipment. Depending on the customer's requirements, we offer housing for your conditions and needs.
Housingoptions (optional):
Sheet steel – housing with black metal with powder coating, gives a guarantee for operation for 10 years;
Zinc-plated – galvanized metal with powder coating increases corrosion resistance up to 25 years;
Aluminum – lightens the weight of the housing by 2.5 times.
The technology of reusable bending of metal in the production of the product – provides a double margin of the product safety and enhanced protection against damage to the equipment.
Packaging
: The cabinets are delivered assembled, on a pallet, packed in cardboard.
Documents