DC FREE COOLING
Product Introduction and range of application
48V DC Free Cooling for Battery, Fiber Optic, Power and Telecom cabinets, Oil & Gas Outdoor Cabinets or Shelter Sites can be combined with Hunterhex DC air-conditioners BMS controllers with MODbus, TCP-IP and RS 232 & 485, alarm sensors with remote communication. The powerful free cooling units are designed for different geographical markets and the functionality controls the internal environment in Battery, BTS, Power and Fiber Optic cross-connect communications outdoor cabinets, shelters or small electronic enclosures. FCB function is to save energy and remove excess heat from temperature-sensitive electronic equipment at very low power consumption from 100 W to save energy. Operates on 48 Volt DC.
DC Free Cooling two versions:
Version 1. FCU 48V DC Free Cooling Unit with cooling capacity 858W/oK and high energy saving only DC fan operation and MODbus controller to connect air conditioner if needed. Version 2. FCU 48V DC Free Cooling Unit with cooling capacity 858W/oK with inbuilt AC compressor that starts operating an override very high ambient temperatures, inbuilt DC fan and AC compressor wit MODbus RS 485 controller and IP connection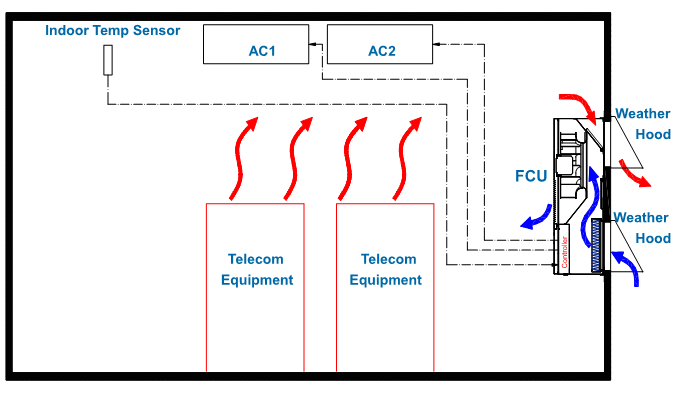 Why mixing valve: Smartly adjust mixing proportions of Return Air (RA) and Fresh Air (FA), to receive correct Supply Air temperature (SA) in case of cold outdoor ambient temperatures.

Completely insulated from outside cold or hot temperatures