UPS HIGH FREQUENCY PROSTAR RACK MODULES
Mercury series High Frequency Rack UPS provides Rack/Tower form factor to fit diverse environment. Ideal for medium-density power protection demand, Despite its compact footprint, this UPS incorporates internal battery packs which can be accessed via the front panel for maintenance checks and replacement without removing the UPS from its rack mounting. The LCD display panel can be easily shifted by pressing buttons to suit the installation format, vertically stand or flatly rack mount. Besides, IT personnel can manage equipment well from learning remaining backup time information via LCD display.
With true double-conversion design, Mercury series provides powerful and overall protection to your sensitive devices. It can accept wider input voltage for harsh environment. It's perfect protection for your precious servers and workstations.
Function Features
1. True double-conversion online UPS
A true double conversion UPS will provide clean, high level quality power to fully protect mission-critical devices such as sensitive networks, small computer centers, servers, telecom applications, as well as for industrial applications.
2. Pure sine wave output
With pure sine wave output, guarantees compatibility for all kinds of loads. Its perfect power protection for versatile applications such as networking, telecom and other mission-critical applications.
3. Wide input voltage range (110V-300V)
Mercury series can still provide stable power to connected devices under unstable power environments.
4. 50/60 Hz Frequency Converter Mode
Lock output frequency at 50Hz or 60Hz to suit power sensitive equipment's.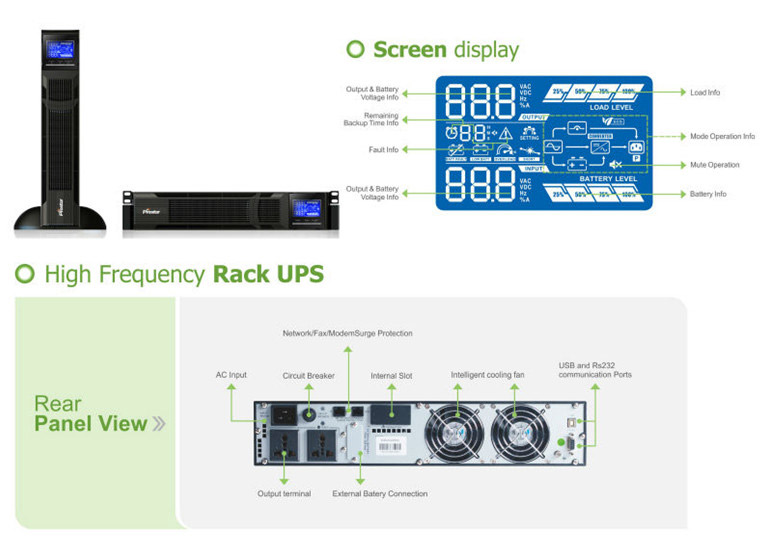 5. Output power factor 0.8
Compared to the online UPS in the current market, Mercury series UPS provides better output power factorup to 0.8. It offers higher performance and effciency for critical applications.
6.ECO mode operation for energy saving
Offers efficiency as high as 97% to cut energy usage &cost. UPS power application via static bypass, timely returning to online double conversion when the need arises.
7. Emergency Power Off (EPO) Function
This feature can secure the personnel and equipment in case of fires or other emergencies.
8. USB+RS232+RJ45+SNMP multiple communication for 1-3K models
This feature allows either USB,RS232 or Rj45 communication port to work with SNMP interface simultaneously.
Unique Design
Humanized panel display and turnable LCD screen
Front panel with LCD screen, Intuitive display by way of figures and graphics etc, LCD screen can rotate freely, and LCD display can be consistent for both installation of Tower type or Rack mounted type UPS.
Rack/Tower Type Design
The installation mode of Racks and tower ups can be arbitrary switching, The hangers for racks and the stents for tower ups are random standard required, easy for choosing by users.
Monitoring Software
UPS can be connected to the computer via USB or Rs232 interface. So it can be realized LAN monitoring single or many sets of UPS, it also can monitor the other ups which connected to the computer via LAN.
UPS monitoring software has more than 10 kinds of language for choice.
Humanized operation interface, which is powerful and can shows the battery voltage, frequency, load, temperature and other data by real-time monitoring through the charts.
Alarm of different power incident could be set by radio, mobile phone text messages, e-mails and SNMP etc.
Technical Specification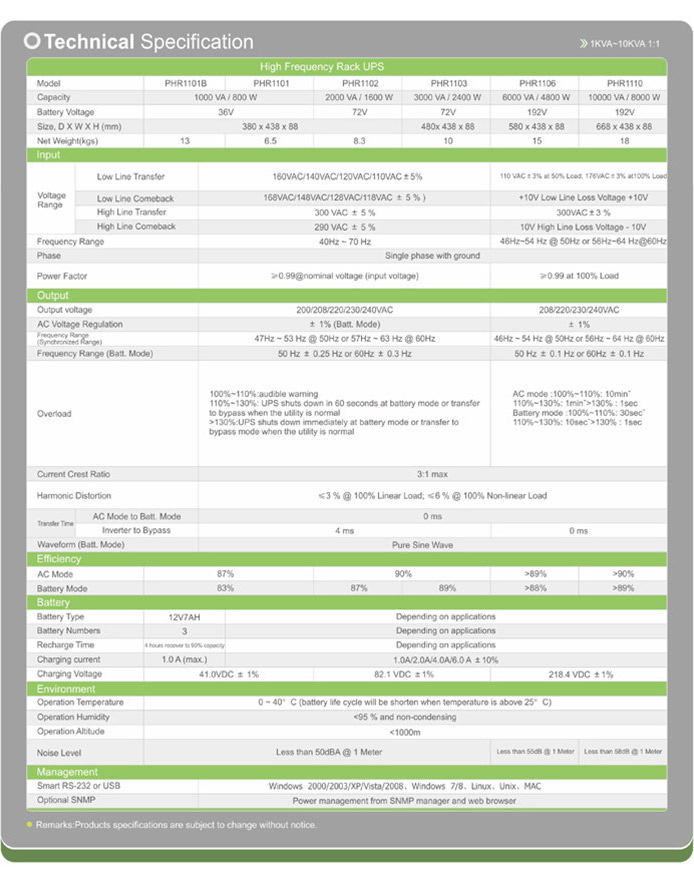 1-3KVA High Frequency Rack UPS
6-10KVA High Frequency Rack UPS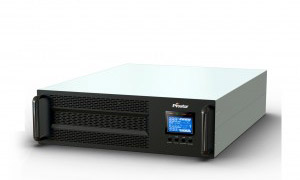 1KVA High Frequency Rack UPS
Quick conversion table Inches & U in Hight
Hunterhex Prostar High Frequency UPS Mercury series 1-10 KVA all 2U
Model

PHR1101B

PHR-1101

PHR1102

PHR1103

PHR1106

PHR1110

Capacity

1000VA / 800W

2000VA / 1600W

3000VA / 2400W

6000VA / 4800W

10000VA / 8000W

Battery Voltage

36V

72V

72V

192V

192V

Size mm WxDxH

380 x 438 x 88

480 x 438 x 88

580 x 438 x 88

668 x 438 x 88

Size inches WxDxH(U)

15 x 17 x 2U

19 x 17 x 2U

22 x 17 x 2U

27 x 17 x 2U

Net weight kgs

13

6,5

8,3

10

15

18

Input voltage range

100/110/115/120/127VAC or 200/208/220/230/240VAC

208/220/230/240VAC

low & high line transfer

Please see technichal brochure for low & high line transfer

Frequency range Hz

40 Hz – 70 Hz

46Hz~54 Hz @ 50Hz or 56Hz~64 Hz@60Hz

Phase

Single phase with ground

Power factor

≥0.99@nominal voltage (input voltage)

≥0.99 at 100% Load

Output voltage

100/110/115/120/127VAC or 200/208/220/230/240VAC

208/220/230/240VAC

AC Voltage Regulation

± 1% (Batt. Mode)

± 1%

Frequency Range

(Synchronized Range)

47Hz ~ 53 Hz @ 50Hz or 57Hz ~ 63 Hz @ 60Hz

46Hz ~ 54 Hz @ 50Hz or 56Hz ~ 64 Hz @ 60Hz

Frequency Range (Batt. Mode)

50 Hz 0.25 Hz or 60Hz 0.3 Hz

50 Hz 0.1 Hz or 60Hz 0.1 Hz

Overload

Please see and download technichal brochure for detailed overload specifications

Current Crest Ratio

3:1 max

Harmonic Distortion

≤3 % @ 100% Linear Load; ≤6 % @ 100% Non-linear Load

Batteries transfer times

AC Mode to Batt. Mode

0 ms

Inverter to Bypass

4 ms

0 ms

Waveform (Batt. Mode)

Pure Sine Wave

AC Mode

87%

90%

>89%

>90%

Battery Mode

83%

87%

89%

>88%

>89%

Battery Type

12V7AH

Depending on applications

Battery numbers

3

Depending on applications

Recharge Time

4 hours recover to 90% capacity

Depending on applications

Charging current

1.0 A (max.)

1.0A/2.0A/4.0A/6.0 A +/-10%

Charging Voltage

41.0VDC ± 1%

82.1 VDC ±1%

218.4 VDC ±1%

Operation Temperature

0 ~ 40°C (battery life cycle will be shorten when temperature is above 25°C)

Operation Humidity

<95 % and non-condensing

Operation Altitude

<1000m

Noise Level

Less than 50dBA @ 1 Meter

Less than 55dB @ 1 Meter

Less than 58dB @ 1 Meter

Management

Smart RS-232 or USB

Windows 2000/2003/XP/Vista/2008 Windows 7/8 Linux Unix MAC

Optional SNMP

Power management from SNMP manager and web browser
*Remarks: Products specifications are subject to change without notice.